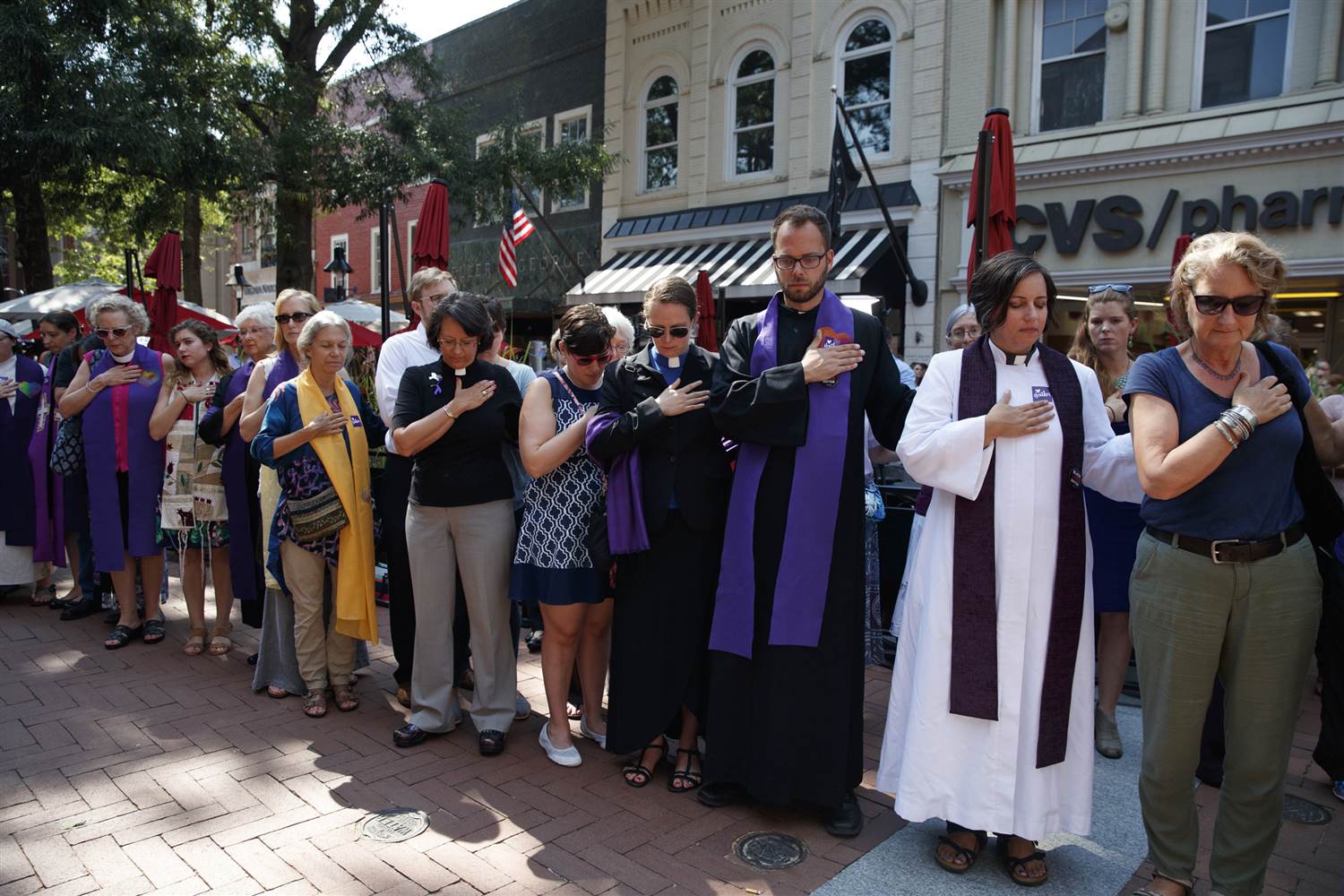 Dear VICPP Supporter,
The Virginia Interfaith Center for Public Policy wishes to call your attention to several opportunities in Richmond this weekend for hearing about racial justice and standing in solidarity with those want to see the Commonwealth of Virginia be a place that welcomes all, no matter their race, immigration status or religious preference. We encourage you to participate in one or more events that you feel comfortable with.
As an interfaith organization, VICPP brings together people from differing faiths, cultures and backgrounds, because the basic core beliefs of our religions are remarkably similar. All share some version of the Golden Rule, and all focus on justice and compassion for others.
Unfortunately there are times today when that message gets lost and we have to stand up for what we believe in. We have posted on the VICPP website some best practices for taking action using a faith-based strategy.
Events begin this evening with a prayer service at 7 p.m. at St. Paul's Episcopal Church on Grace Street near Capitol Square. "We invite people from all walks of life to gather with us," said Bishop Susan Goff of the Episcopal Diocese of Virginia.
Saturday will start with a prayer and "intention setting" service coordinated by Rev. Lacette Cross at Temple Beth-El, 3330 Grove Ave., at 6:30 a.m. I know this service will set a peaceful tone for the rest of the day.
Then VICPP, First Unitarian Universalist and the Richmond Peace Education Center are co-sponsoring a rally at the new Maggie Walker statue (at Broad and Adams streets) starting at 8:45 a.m. "The rally with celebrate our rich diversity as a city," says Lana Heath de Martinez, VICPP's Welcoming All Coordinator. Participants will then walk to Monument Avenue but will avoid direct contact with any white supremacists who plan to rally at the Lee Statue
Another of the events we want to invite you to is actually happening twice. My good friend Dr. Nancy MacLean, a Duke University history professor whom I know from my Chicago days, will be leading two "teach-ins" based on her book, Democracy in Chains: The Deep History of the Radical Right's Stealth Plan for America. Nancy's book has many Virginia connections, so this should be a very thoughtful complement to the other events of the day. You are asked to register if you plan to attend. The teach-ins will be held at 10 a.m. at Unitarian Community Church of Glen Allen, 11105 Cauthorne Rd., Glen Allen, 23059; RSVP here; or at 3 p.m. at First Congregational Christian United Church of Christ, 4310 Courthouse Rd., Chesterfield, 23832; RSVP here.
There will also be an "Intercultural Summit" Saturday morning at St. Mark's Episcopal Church starting at 11:30 a.m. led by Bishop Shannon Johnson and Bishop Goff. This event costs $15 and will include lunch. Register here.
And a diverse coalition of organizations are sponsoring an afternoon event called Building a Just Richmond at the Math/Science Center, 2401 Hartman St., at 1 p.m. "Following a plenary with speakers and a panel, attendees will have the opportunity to choose from several facilitated workshops designed to build skills to advance a just Richmond."
Finally, Grace Covenant Presbyterian Church, 1627 Monument Ave. will be open tomorrow as a safe space from 9 a.m. to 5 p.m. A different area congregation will lead worship every hour.
We are not expecting any of the craziness we saw in Charlottesville  – thank goodness. We do believe the variety of education, worship and public events offer a range of ways people can learn more about racism and stand up for a diverse and welcoming Virginia. Please join us at when you can.
As you know, VICPP has become a center to which people turn for information and guidance. With a small staff, we have felt stretched a little thin this week. Please accept our forgiveness if we've not returned your call or email in this busy and challenging time.
Please visit our website to contribute or sign up for our email list, and pass our information on to those in your faith community who would also support our mission.
With peace and justice,
Kim Bobo
Executive Director, Virginia Interfaith Center for Public Policy